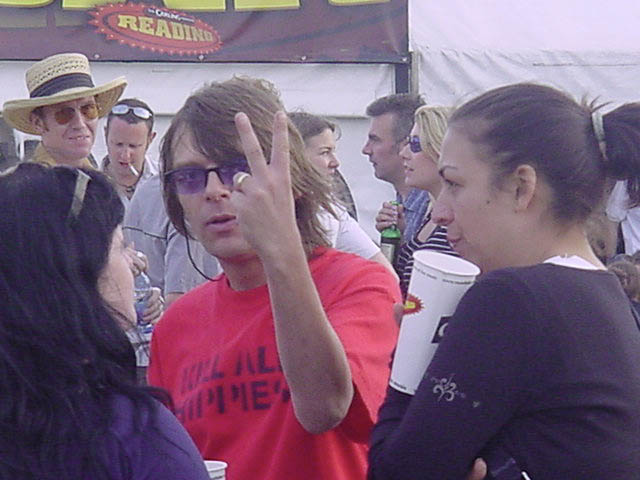 Busted!!
Mani from Primal Scream catches me taking a snap of him with my digicam at the 2000 Reading Festival.







July 25, 2003 2:21 PM

Here is my bootleg list. I am trading sporadically these days but don't be afraid to ask. At the same time, don't be mad if I say no.

Bands I want: Super Furry Animals, Radiohead(new stuff), Spoon, Ted Leo, Mazzy Star, Ride, The La's and The Sundays.

Newest additions are in the column all the way to the right. If they are there this means I havent listened to them yet. Once I give it a test drive, then it goes into the main list.

RICHARD ASHCROFT

Joes Pub, NYC - 5/16/00 CD



BEASTIE BOYS

Demos 88-89 CD

Rabid various 1994 CD

Seven Day Weekend various/Europe 1994 CD



BEN HARPER

MSN On Air New York, NY 1996 CD

Bonn, Germany - 4/12/98 CD



BETA BAND

Imaginary Music - Atlanta - 2CD



BILLY BRAGG

England 1/25/86 MD

Phoenix Festival 7/93 CD



BJORK

Unplugged NYC 11/7/94 CD

Beauty and the Beast Toronto, Canada 7/8/95 CD



BLUR

Hippodrome, London 3/15/99 CD



BUFFALO TOM

Darl various 1992 CD



CHARLATANS

Sheppards Bush Empire 4/20/00 CD



CHEMICAL BROTHERS

Brixton Academy 1996 CD



COLDPLAY

BBC Sessions 2000 CD



DOVES

BBC Sessions 2000 CD

Bowery Ballroom, NYC - 2/27/01 CD



ECHO & THE BUNNYMAN

Liverpool 1/11/88 CD



GALAXIE 500

Copenhagen 12/1/90 CD



GENE

Stars In Their Eyes Various 1995 CD

Mercury Lounge, NYC 3/28/00 CD



GORKY'S ZYGOTIC MYNCI

Scala, Kings Cross 1999 CD

Mercury Lounge, NYC 3/28/00 CD



HOUSEMARTINS

Demos 1984 CD

Italy 7/1/87 CD



IDLEWILD

Maida Vale 6/3/00 CD

Bottom Of The Hill, CA 3/13/01 CD



LUNA

Sweden 7/3/97 CD



JOY DIVISION

The Complete BBC Recordings CD



MANIC STREET PREACHERS

Manchester 5/4/97 CD



MASSIVE ATTACK

Live At The Royal Albert Hall 1999 CD



MORRISSEY

Dreams Ill Never See Switzerland 9/7/92 CD

Happy X-mas - London Astoria 12/20/92 CD

Beethoven Was Deaf Le Zenith, Paris 12/22/92 CD

Bremen, Germany 10/16/99 CD

Las Vegas 12/20/99 CD

Avalon, Boston 2/19/00 CD

Red Bank, NJ 2/24/00 CD

Roseland - New York, NY 2/25/00 CD

Beacon Theater NYC 2/29/00 CD



NIRVANA

Banned For Life Seattle, WA 10/11/92 CD

Live 1994 various 1994 CD



NEW ORDER

BBC 1 Live In Concert CD



OASIS

The Wetlands, NYC 7/21/94 (First ever US show)

The Metro, Chicago 10/15/94 CD

The Whiskey, LA 1994 CD

Black And White 94 Tour 1994 CD

Undrugged Unplugged 94-95 CD

Paris Supreme Le Zenith, Paris 11/7/95 CD

250,00 Oasis Fans... Knebworth 8/11/96 2CD

Getting High Baltimore, MD 10/10/96 CD

Jones Beach, NY 1996 2CD

Hammerstein Ballroom NYC 10/8/97 CD

Detroit 12/5/99 CD

Los Angeles 12/11/99 CD

Radio City Music Hall NYC 5/1/00 2CD

Hartford, CT 5/27/01 CD

Standing on the Shoulders....demos CD



PAVEMENT

Green Around... Atlanta GA March 94 CD

Shepards Bush Empire 1997 CD



PEARL JAM

Salt Lake City, UT 11/01/95 2CD

San Jose, CA 11/04/95 2CD

Hartford, CT 1998 2CD

Bridge School Benefit 10/30&31/99 CD

Camden NJ 2000 CD

Memerial Stadium, Seattle 7/22/98 2CD

San Sebastian, Spain 5/26/00 2CD

Manchester, UK 6/4/00 2CD

Berlin, Germany 6/25/00 2CD

Oslo, Norway 6/29/00 2CD

Philadelphia, PA 9/2/01 2CD



PRIMAL SCREAM

Glasgow Barrowlands 2/18/98 CD

Maida Vale Studios April 2000 CD

Hultsfred Festival 2000 CD



RADIOHEAD

Airwaves Milton Keynes/Bristol 7/95 CD

Planet Paradiso Paradiso, Amsterdam 12/4/95 CD

Boston 4/13/96 CD

New Yorke Stories NYC 6/9/97 CD

10 Spot NYC 12/19/97

Warrington 2000 2CD

Roseland Ballroom NYC 10/11/00 2CD

George, Washington 6/23/01 2CD

Santa Barbara, CA 6/30/01 2CD

MSG, NYC 8/7/01 2 CD

Suffolk Downs, MA 8/14/01 2CD

Liberty State Park, NJ 8/16/01 2CD



RAGE AGAINST THE MACHINE

Tibetan Show 6/16/96 CD



REM

Acoustic 87 Santa Monica 5/24/87 CD

Early Movments demos 1980 CD

TGIF Greensboro, NC 3/31/81 CD

Do The Strand Marietta, GA 7/2/82 CD

Live AT Yokohama Yokohama 10/11/84 CD

Back To Rockville Minneapolis, MN 6/29/84 CD

End Of The World various 1989 CD

From The Borderline Italy 3/21&22/91 2CD

Live In Athens Athens, GA 11/19/92 CD

Wicked Games Various 1995 2CD

Songs That Are Live various(4 songs) 1995 CD



THE REPLACEMENTS

various 1989 CD

New Orleans, LA 1/28/91 CD



RUFUS WAINWRIGHT

Knitting Factory, NYC 8/27/00 2CD



SMASHING PUMPKINS

Seeds Demos/Outtakes 89-91 CD

Drown various 1993 CD

Spaceboy various 1993 CD

Fishing Blue various 1993 CD

Feeling Like... Minneapolis, MN 8/3/93 CD



THE SMITHS

Demos 1983 CD

Madrid 5/5/85 CD (gaps in between tracks)

Unlovable Radio & TV gigs 83 - 87 CD

Flowers Oxford(Soundboard) 1985 CD

Lucky Stars Los Angeles 8/26/86 CD



THE STONE ROSES

Demos 1985 CD

Colours Fade Manchester 2/27/89 CD

Tokyo 1989 CD



THE SUNDAYS

Luxor, Clogne Germany 1990 CD

The Hague, Holland 3/2/90 CD

Portland, Oregon 3/17/93 CD

Ventura, California 6/3/93 CD

Union Chapel, London 11/12/97 CD



SUPER FURRY ANIMALS

Hultsfred Festival, Sweden - 6/13/96 CD

London, Soho 1996 / Astoria 1997 CD

Live Logic Various 97-98 CD

Howard Marks Various 97-98 CD

Bataclan, Paris 2/25/98 CD

T In The Park Festival 7/13/98 CD

Newcastle University 10/28/98 CD

Paradiso, Amsterdam 11/12/98 CD

England 5/2/99 CD

Cambrige, 1999 2CD

Glastonbury 1999 CD

Seattle, WA 10/1/99 CD

Cardiff International Arena 12/99 CD

The Scala, London April 2000 CD

Brighton, Concorde 4/6/00 CD

Maxwells NJ 6/6/00 CD

Ross On Wye Festival 8/23/00 CD

Reading Festival 8/26/00 CD

Lamacq Live - 7/30/01 CD

Glasgow, 2001 2CD

Manchester, 2001 2CD

The Forum, 2001 2 CD

Peel Sessions 2001 + DVD tracks CD



10,000 MANIACS

Last Days Seattle, WA 5/23/93 CD

Edens Children Los Angeles, CA 6/10/93 CD



TEENAGE FANCLUB

various 1992 CD

Town & Country Club 2/92 CD

Paris, France 3/8/92 CD



TRAVIS

Oxford 10/16/97 CD

San Fransisco 1999 CD

Bowery Ballroom, NYC 2/3/00 CD

Radio City Music Hall, NYC 5/1/00 CD





U2

Sun Devil Stadium, AZ 1987 CD





UNDERWORLD

The Warfield, San Fransisco 4/29/99 2CD

Cologne, Germany 1999 2CD

Tokyo 2000 2CD

Everything, Everything CD





THE VERVE

Electric Sessions Various 92-97 CD

Paris 10/15/97 CD

Wigan 5/24/98 CD

Pinkpop Festival 6/1/98 CD

Urban Hymn Demos CD





WEEZER

B-Sides/Live Tracks Various CD

Germany 8/18/96 CD





PAUL WELLER

Live Wood Various 93-94 CD

Sessionman Various 91-95 CD

BBC Radio Theater May 2000 CD





Recent
Additions:
7/25/03 - Just In:

SFA - Glastonbury 2003 / John Peel

SFA - Glastonbury 2003 / Lamaq

SFA - XFM session 7/2/03

Pearl Jam - Atlanta 4/3/94

The La's - 4/19/91

The La's - 12/6/90

The Sundays - Black Sessions

Mazzy Star - Black Session

Ride - San Fran 5/23/92

Archers of Loaf - St. Louis 4/14/95